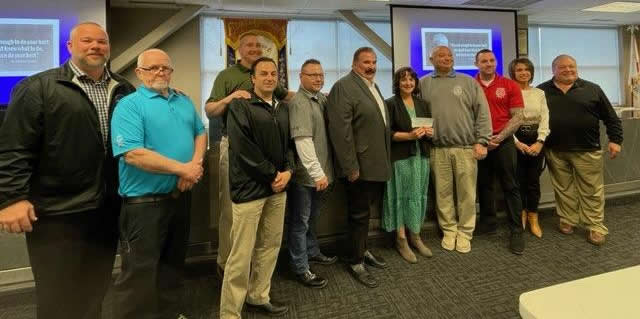 International Union of Elevator Constructors (IUEC) apprentices and mechanics are fortunate to benefit from one of the best healthcare plans in the country through the National Elevator Industry Health Benefit Plan. This plan gives them access to a generous and comprehensive schedule of medical, prescription drug, mental health/substance abuse disorder, dental, vision, and hearing benefits. However, far too many of our members working in the elevator trade are diagnosed with diabetes. The Diabetes Research Institute Foundation (DRIF) is working to change that, and with the continued support of North America's Building Trades Unions (NABTU) and the IUEC, they are closer to eradicating this devastating disease.
More than twenty years ago, a representative from the Diabetes Research Institute (DRI) attended an IUEC Convention in Toronto, Canada, as a guest speaker. He asked the people in attendance – how many of you in this room have a family member or close friend who has been diagnosed with diabetes? According to the IUEC Local 2 members who were in the audience that day, over ninety percent of the elevator constructors in the room raised their hands.
The DRI first came to the attention of the IUEC through NABTU, which has supported the DRI for more than 35 years. Their long-running, nationally-coordinated Blueprint for Cure: DAD's Day and Labor of Love campaigns encourage members of the building trades to come together to support the DRI's goal to find a biological cure for diabetes. Since NABTU began supporting the DRI, they have raised over $63 million dollars for diabetes research; NABTU's website states: "Through bucket collections, walkathons, motorcycle rallies, golf tournaments, bowling tournaments, poker runs, and more, the Building Trades community raised the funds necessary to build the Diabetes Research Institute."
Elevator constructor apprentices, mechanics, and IUEC leadership have been an integral part of making support like this possible. In 2022, as in past years, IUEC Local 2 in Chicago was one of NABTU's top DAD's Day donors. Deeply impacted by the words of the speaker in Toronto, Local 2 leadership brought that message home to their membership – so now, for more than two decades, IUEC Local 2 in Chicago has held an annual charity golf outing to benefit the work the DRI is doing to eradicate a disease which, according to statistics obtained by the National Institute of Diabetes and Digestive and Kidney Diseases (NIDDK),  affects more than 37 million people in the United States – over 11% of the country's population.
Through the Local 2 Organization for Diabetes Research 501(c)(3) charity, IUEC members, their friends, families, and supporters from other IUEC Locals and the greater Chicagoland labor community have cumulatively raised hundreds of thousands of dollars for the DRIF. Sponsorships, entry fees, raffles, a hole-in-one challenge, and other activities during the event have provided many opportunities for the IUEC community to donate. Last year, more than 500 people attended the tournament. "We definitely want to thank all of the people who come out and participate, whether volunteers or golfers…anyone who supports the cause," said Gary Pipiras and Eric Crane, who both serve as Local 2 Vice Presidents and Business Representatives.
Because of the success of the Chicago tournament, Local 2 has offered advice to other IUEC Locals and building trades members who want to set up golf outings for DRIF or other charitable causes in their areas. "IUEC 12 in Kansas City just reached out to us…we give them guidelines, I give them our flyer. We've helped the sprinkler fitters and bricklayers as well," said Kate Hickey, Local 2's Financial Administrator, who has been instrumental in the event's planning for many years.
ElevatorInfo visited IUEC Local 2 in Chicago on St. Patrick's Day as they presented a donation of $71,000 to the Diabetes Research Institute and Foundation. IUEC Leaders from the Local, along with Mike Mintle, Chicago and Cook County Building and Construction Trades Council Secretary/Treasurer, and IUEC members involved in the organization of the annual charity golf tournament, gathered to personally hand the check to the DRI Foundation's Senior Vice President, Tom Karlya, and its Director of Major Gifts, Brendon Steenbergen, along with and Dr. Allison Bayer, Research Assistant Professor in the Department of Microbiology and Immunology at the Diabetes Research Institute, University of Miami Miller School of Medicine.
Dr. Bayer, a cellular immunologist and leading researcher in the fight against autoimmune type 1 diabetes, gave a presentation on the research that's being conducted at the DRI facility to the group and explained how this research could lead to a cure for diabetes. She began with an overview of what diabetes is and how it affects the body at the cellular level, then shared information about current studies, clinical trials, and the advancement of DRI's research around finding a biological cure for diabetes.
Because the research is so involved, much of the DRI's work is funded by large grants sponsored by large health-focused foundations like the Juvenile Diabetes Research Foundation (JDRF) and the National Institute of Health (NIH). So why is funding from groups like NABTU building trades councils and IUEC elevator constructors so important? In order to qualify for larger grants, researchers must first prove to potential grantors that the work they propose using the grant for is worth funding – meaning, they have to prove that they can get results. This requires they collect data, conduct preliminary test studies, and prepare detailed reports of their findings before they can apply for larger grants to advance the science.
Donations raised by the elevator constructors in Local 2 are given as 'unrestricted' funding so that the Diabetes Research Institute Foundation can immediately direct them toward their areas of greatest need. This is especially important to support the preliminary studies that make obtaining larger grants possible. "A lot of those initial studies that we need to get pre-clinical data for a clinical trial are supported by the foundation, said Dr. Bayer.
Tom Karlya explained, "A lot of times in academia, they put out an RFP (request for proposal), and then by the merit of what the proposed science is, they are awarded grants. What we do is we work directly with the scientists – every year, we meet with all of them – and we find out what looks promising. If we see something that looks promising that didn't get NIH funding or funding from another source, we don't want it to die on the vine, we don't want it to just go away because it didn't have the money. It's like a catch 22 – you have to prove it to get the money, but in order to prove it, you need the money. What we do is we move the science forward."
The building where Dr. Bayer and the other research scientists carry out their work, a 78,000 square foot research facility on the campus of the University of Miami in Florida, was built 100% by union labor, according to NABTU1. "Everything we receive goes to the institute. We don't even have to pay rent for that building because of you guys," said Tom.
1Source: https://nabtu.org/dads-day/
https://www.elevatorinfo.org/wp-content/uploads/2023/03/uiec-local2-meeting.jpg
319
640
Elevator Info
https://www.elevatorinfo.org/wp-content/uploads/2020/10/elevator-info-solo-v2.png
Elevator Info
2023-03-29 09:17:59
2023-03-29 11:44:36
IUEC Elevator Constructors and Building Trades Support Research Toward a Cure for Diabetes