In Retirement, IUEC Mechanic/US Marine Veteran to Sail Global Solo Challenge

Retired IUEC elevator constructor and United States Marine Veteran Curt Morlock is always looking for his next adventure. He credits his fulfilling retirement – specifically, being able to pursue his dream of racing solo around the world – to the lifetime guaranteed pension he received as part of his IUEC benefits package.
Born and raised in the Sunshine State, Curt Morlock has always loved the water.
"I grew up in South Florida – Hollywood and then Miami Beach," said Morlock. "My father, who worked as a fireman, taught me everything there is to know about the beach. I was snorkeling by age six. Fishing, sailing, surfing – we really did it all."
After his retirement from the elevator industry in January of 2023, he signed up for the Global Solo Challenge (GSC), a solo, nonstop, round-the-world sailboat race. 65-year-old Morlock is one of just five Americans currently on the GSC roster.
"This race will be the challenge of a lifetime. Only three American sailors have successfully gone around the world solo, unassisted, and nonstop," said Morlock. "This has always been a dream of mine. To me, sailboats are like a giant surfboard. I fell in love with sailing as a young man, and as far as the race goes, I knew it was now or never."
When we spoke with Morlock about the race, he used the phrase "now or never" several times. Having recently been diagnosed with cancer, Morlock's friends and family, including his children Steele and Kevyn, have supported him and his racing ambitions since day one. Even his doctor has urged him to go on this journey.
"This wasn't just some goal to accomplish or check off a list – it was a dream. I knew I had to go for it," said Morlock. "At about the same time that I retired, I was out shopping for a boat. The race boat I ended up purchasing was about $170,000. The costs are significant – there's a lot that goes into this that people don't really realize."
After completing his military service as a US Marine, Morlock worked for more than two decades as a union elevator constructor in Florida, Nevada, and Colorado.
"The union, the International Union of Elevator Constructors – it's amazing what a career within the organized elevator industry can do for one's life. It's transformational," said Morlock. "Good wages. Good benefits. And it's even more than that. It's about honoring your family, as well as your country. The union gave me the opportunity to do what I want – I worked hard, and now I can pursue my passions."
Morlock talked about being a part of several noteworthy jobs over the course of his career. His work in the elevator trade, especially when he worked on the conveyance equipment at Denver International Airport, was a great post-military career path. "When I served in the Marines, I worked on A-6s. Working at the airport – it was like a giant aircraft carrier. I felt right at home," said Morlock. "In the military and in the IUEC – we made it work by working together as a team. That's what makes the union so great – the camaraderie and the strong sense of togetherness."
With plans to launch on December 9, 2023, Morlock's goal is to complete the solo, nonstop race around the world in 120 days. His 60-foot sailboat, named the 6 Lazy K, has an 85-foot mast and a 14.5-foot keel.
When asked what is required for an individual to complete such an impressive mission, Morlock responded, "Character, ability, and discipline – all things the union has given to me."
When Morlock mentioned that wave heights regularly exceed 30 feet in the Southern Ocean, we asked if he was nervous about his upcoming voyage.
"I don't know what that is – I truly don't know what it is to be nervous," he laughed. "Just like in the elevator industry, this race will be go, go, go. Thankfully, I've always been a physical guy. However, at the end of the day, it's all about safety. That's my priority – doing it right."
To learn more about the advantages of becoming an IUEC elevator constructor, including the robust retirement plan available through IUEC's Pension, Annuity, and 401K benefits, contact ElevatorInfo.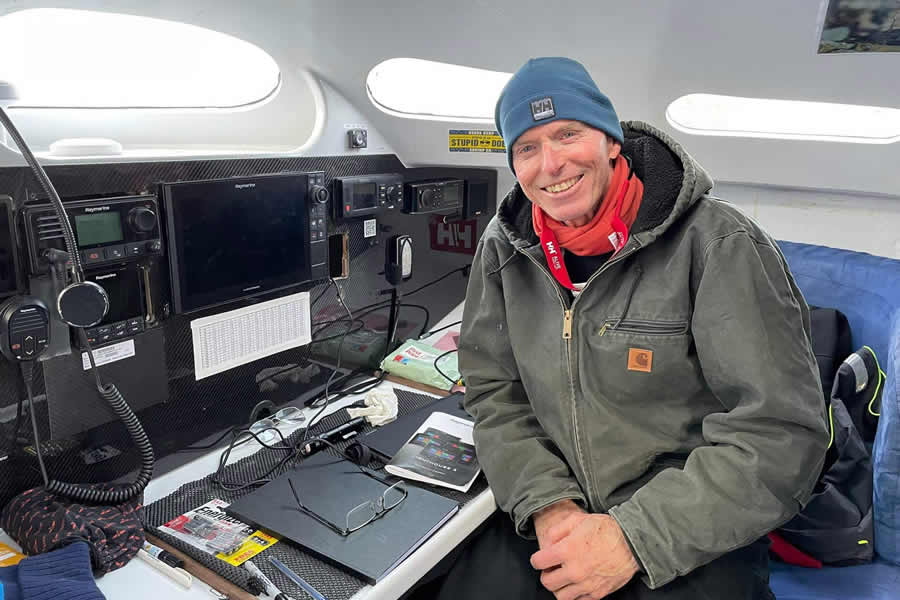 https://www.elevatorinfo.org/wp-content/uploads/2023/11/iuec-mechanic-curt-morlock.jpg
756
1500
Elevator Info
https://www.elevatorinfo.org/wp-content/uploads/2023/11/elevator-info-solo-300x230.png
Elevator Info
2023-11-07 06:23:58
2023-11-07 06:23:58
In Retirement, IUEC Mechanic/US Marine Veteran to Sail Global Solo Challenge