The Fundamentals of Safety for Elevator Technicians/Constructors
When working on elevators, escalators, or other types of conveyance equipment, safety must always be the number one priority. Most work-related injuries suffered by elevator technician/constructor mechanics and apprentices are caused by distractions, complacency, overconfidence, incomplete or improperly worn personal protective equipment (PPE), or a lack of safety training.
In an environment where work is done in confined spaces (including permit-required confined spaces), at elevated heights, or in close proximity to adjacent equipment, high voltages, and hazardous chemicals/materials, it's essential that all PPE and items in your safety bag are checked and procedures and processes are reviewed before beginning any work on a job site or specific task.
Fall Protection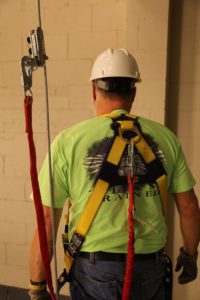 The Personal Fall Arrest System (PFAS) is comprised of three main pieces: an anchorage point, a body harness, and a lanyard. It is the standard mandatory PPE that elevator technician/constructor mechanics and apprentices must use whenever working where a fall of 4' or greater (general industry) or 6' or greater (construction) is possible. Always ensure you select appropriate engineered anchor points and use your lifeline or other anchoring devices in accordance with the instruction manual, Occupational Safety and Health Administration (OSHA) Regulations and Standards, and your company's policies and procedures. Reading and understanding these documents could be the difference between life and death.
Of OSHA's "Focus Four" – which details the four most common causes of worker fatalities on construction sites – falls account for 33.5% of worker mortalities, placing them first on the list when it comes to dangers in the workplace.  In 2021, OSHA ranked inadequate fall protection as the most common safety violation that led to injuries and fatalities.
Fall protection gear, along with safety nets and standard guardrails, can save your life. Be diligent and take time to inspect each piece of fall protection gear before starting any work on an elevator, escalator, or other types of conveyance equipment.
Eye and Face Protection
Eight of the top ten most frequently violated standards cited by OSHA involve inadequate or improperly worn eye or face protection. Elevator technicians/constructors must always have eye and face protective gear in their safety bags to protect against injuries from cutting, welding, dust, debris, or other objects.
Thousands of workers in the building trades are blinded each year; many of these injuries could have been prevented had the correct eye and face protection been worn. Always wear your safety glasses, goggles, face shields, and welding helmets (when required) to stay safe on the job.
Lockout/Tagout (LOTO) / Test and Verify (Mechanical Energy)
Lockout/tagout (LOTO) and test and verify procedures ensure that the equipment that elevator technicians/constructors are working on is not energized and does not start up during maintenance, repair, or troubleshooting.  LOTO procedures protect workers from electrical energy as well as other types of stored energy. In the elevator industry, common LOTO procedures can include using pipe stands to support a column of oil holding up hydraulic equipment or using rope grippers on traction equipment. Unless you are working on a system that must remain energized during troubleshooting – and taking the precautions required by code and your elevator company's safety policies in order to do so – you must always lockout, tagout, test, and verify your equipment to remove the stored electrical, mechanical, gravitational, hydraulic, or pneumatic energy that could put you at risk of serious injury or death.
Lockout devices include keyed or combination locks that when installed prevent pieces of equipment from starting or moving. Tagout devices are tags that are securely attached to the equipment to indicate that both the equipment and the energy-isolating device are inoperable, as well as provide contact information for the individual who locked out and tagged out the equipment. When a piece of elevator equipment has several isolation points, a group lockout box (sometimes called a LOTO box) or group lockout device must be used before it can be securely locked out.
In 2021, lack of control of hazardous energy placed seventh on OSHA's list of its most frequently violated standards. According to the administration, the most common workplace injuries from LOTO misuse are electrocution, scalding, chemical burns, crushed limbs or digits, and amputations.
LOTO / Test and Verify (Electrical Energy)
When providing elevator services, elevator technicians/constructors often have to work with electricity. Electrocutions account for 8.5% of construction worker deaths and are number three on OSHA's "Focus Four" list. Always make sure the equipment you are working on is grounded, and always lockout/tagout and test and verify any electrical equipment in accordance with OSHA Regulations and Standards, local, state, and national code requirements, and your company's policies and procedures.
If you are installing or servicing AC/DC equipment, ensure that you are wearing OSHA-approved PPE to protect you from electrical hazards.
Safety Resources and Training
Before starting any elevator installation, modernization, repair, or maintenance procedures, always take an assessment of the workplace's potential physical or health hazards and ensure that you and your coworkers know what needs to be done to minimize your risks. While it's your employer's responsibility to provide you with proper safety equipment, training, and PPE, you must know how and when to use it, and you must commit to using it correctly every time.
Through the National Elevator Industry Educational Program (NEIEP) and the International Union of Elevator Constructors (IUEC), members are provided with basic elevator constructor safety training that includes up-to-date OSHA-certified courses covering equipment, processes, and procedures they must be ready to apply on the job site. Safety training is one of the best benefits all elevator constructor mechanics and apprentices get from the IUEC, its union-affiliated employers, and NEIEP. (Employers are required to provide more comprehensive safety training.) OSHA's general duty clause covers the requirements of the employer and employee.
To learn more about that, as well as union working conditions, elevator constructor retirement benefits, healthcare coverage, and annuity and 401(k) savings plans, head over to our hub of resources for elevator mechanics.
https://www.elevatorinfo.org/wp-content/uploads/2023/02/elevator-mechanic-safety.jpg
550
880
Elevator Info
https://www.elevatorinfo.org/wp-content/uploads/2020/10/elevator-info-solo-v2.png
Elevator Info
2023-02-08 10:28:32
2023-06-21 06:10:14
The Fundamentals of Safety for Elevator Technicians/Constructors